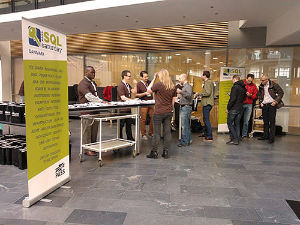 Last weekend I was in Copenhagen for SQLSaturday #275 Denmark. What a great event! I had signed up as a volunteer for several reasons. I wanted to help the Danish (and Nordic) SQL community, I wanted to get more experience as a volunteer, I wanted feedback and inspiration that will be useful for when we're organizing SQLSaturday #317 Oslo, and most importantly I wanted to meet all the great community people I only knew from Twitter.
Planning volunteer tasks started a few weeks before the event when the event organizers and volunteers decided on who would be responsible for each task via e-mails. I felt a bit like Donkey from Shrek going "pick me! pick me!" when I told the event organizers I could volunteer all weekend if needed, but they had done such a great job they didn't really need much help. The main tasks were volunteering as room attendants and helping out with registrations.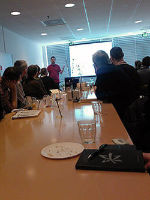 I was assigned a room after lunch, so I spent the morning listening to the keynote, attending a few sessions, getting to know people and talking to sponsors. (I may have had moments where I ran around like a headless chicken trying to figure out what to do, which usually made me grab some more coffee, which in turn made me run around even more… At least I got to see a lot of the venue this way!)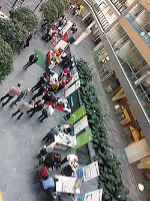 During the end of the lunch I realized that I wasn't exactly sure what to do as a room attendant, but a quick briefing from the event organizers made it an easy task. The speakers in my room were experienced and had no problems running the show themselves, so all I had to do was agree on when to notify them about the amount of time left, make sure there was enough water, hand out speaker gifts and keep the room clean.
It was a long day, but a great day! What I enjoyed the most was meeting everyone in person and getting to know new people. It was a fun surprise to meet coworkers and members of SQL Server User Group Norway that I didn't know were attending 😃 I got to attend sessions on topics I usually don't work on and learned new things that way, and I have to mention the SQL swag I brought back home: volunteer shirt (also known as "shirt dress"), fleece sweater (I drowned in it, but it was lovely and warm), cap, candy, books and lots of other fun items.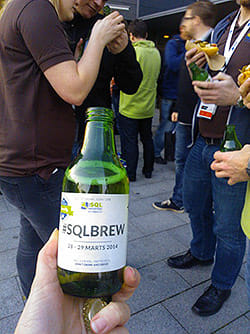 There were a few things that could have gone smoother, but I really am being nitpicky when I point those out. The organizers could have sent out instructions on each task before the event, but I could also have made sure to ask earlier what to do. I could have talked more with the speakers in my room, but I didn't want to disturb them while they were preparing. I could have greeted the attendees as they walked in, but they were there to see the speakers, not the volunteers, so I let the speakers greet everyone. I wish I could have met more people, spent more time with sponsors and attended all the sessions, but there was just not enough time for everything.
Volunteering is a great experience and I definitely won't hesitate to help out at other events, but it does take time and you could miss out on sessions because you're volunteering in another room. If that's the case for you as a volunteer, try to switch rooms with another volunteer. If you're an event organizer, try to make sure everyone gets to see the sessions they're most interested in so it's a great day for everyone.
At the end of the day there were giant jenga matches, raffles, organic hot dogs, #SQLBrew and lots of happy faces. Thank you to the event organizers for a great event and for inspiring us Norwegian organizers. Thank you to all the speakers and the other volunteers, I hope to see some of you in Oslo in August and hopefully at other SQLSaturdays!