I was honored to be selected as a speaker for SQLSaturday #341 in Porto, Portugal this weekend, and I had such a great time that I hope to come back next year for SQLSaturday Lisbon or SQLSaturday Porto.
First of all I want to say a huge thank you to everyone who organized and volunteered at this event. You guys did an amazing job and I hope you finally got some sleep after working around the clock for a week! Niko, Paulo, Ivan, Rui, André, Pedro, Vitor, Quilson and Nuno - thank you. I also want to thank Ines for being our photographer, she was running around everywhere all day taking pictures and filming. I can't wait to see the result! 😃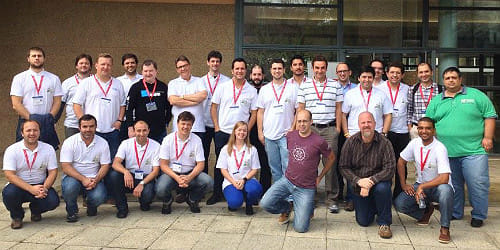 SQLSaturday #341 Porto Speakers and Organizers
This was a very special and memorable weekend for me. It was my first trip to Portugal and the first time I was selected as a speaker for a SQLSaturday other than my own event. It was a very different experience being there as a speaker compared to being an attendee, volunteer or organizer. As an attendee and volunteer I want to learn as much as possible and help out where needed, as an organizer I'm in the middle of a crazy whirlwind trying to remember everything I need to do, and as a speaker I have one main goal: that the attendees in my session will learn something they can start using in their projects right away.