Volunteering and Speaking at SQLBits XIV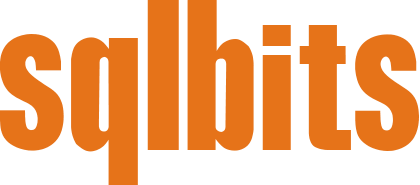 SQLBits XIV Superhero Edition was my first SQLBits experience, and it was a truly amazing week! I want to start with a massive thank you to the organizers: Darren Green, Simon Sabin, James Rowland-Jones, Chris Testa-O'Neill, Allan Mitchell, Jonathan Allen and Annette Allen. You did one heck of a job to make this the best conference in the universe! 👏🏻 I also want to say thank you to all the sponsors, volunteers and speakers who made this a great event. And to all the attendees, I hope you had a blast and that I'll see you again next year!
Day 0: Preparations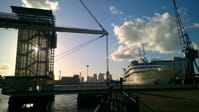 On Tuesday I landed at Gatwich Airport and spent a few hours on trains, the tube and the DLR in London. I bet I'm the only one who thought it was easy to get from the airport to the venue, but then again… I'm used to public transportation in Oslo 😅 After I checked into my hotel I walked over to the ExCeL. It was a beautiful spring day and I took the scenic route along the waterfront.
The next four hours were spent getting to know other volunteers, packing bags, packing bags, eating and packing bags. There were two tables set up with all the sponsor swag on both sides of the table. After lots of trial and error trying to figure out how to pack bags most efficiently without walking into each other, my "Norwegian Method" caught on. Start on the side of the table where the packed bags are dropped off. Walk along the table and grab one of each item. When you get to the end, pick up two empty bags and stuff everything in one of the bags. Continue to walk clockwise on the other side of the table, stuff the other bag, and drop off the two full bags. Repeat, repeat, repeat for four hours 😄 I'm not sure it was the most efficient technique, but it was my favorite. However, at the end of the day there were so many people there that I gave up the packing and helped out with cleaning instead. At the end of the day we headed over to the Aloft hotel bar and grabbed some drinks. It was so great to meet people I had only talked to on Twitter, to see friends from all over the world again and to get to know new people! 🤩
Day 1: Training Day
On Wednesday morning we set up the registration area and Annette did the volunteer briefing. As a rather new organizer I tried to learn as much as I could from Annette, and I look forward to meeting her again in Exeter so I can pick up even more useful tips 😊 Each volunteer got their own folder with schedules for each day and information about the different name badges and wristbands so we knew who to let into the different sessions. We got clear instructions on what we needed to do as room monitors, and each room had its own room monitor folder. The folder contained a form for each session that room monitors had to fill out and sign, plus all the signs we would need: time left, reserved seats, session full, no entry and exit only. The form included information about what we needed to do before, during and after the session, at which times we had to notify the speakers about how much time they had left, and a few other questions. It made being a room monitor so easy! 👏🏻
I attended the workshop by Pragmatic Works' Adam Jorgensen and Bradley Ball: Optimize "All Data" with a modern data warehouse solution. I love how they took the superhero theme seriously and brought lots of toys with them to hand out to attendees 🤓 It was a great day where we talked about nearly everything we're currently working on in my company, and I shared quite a few tips and tricks with my coworkers during the day. We also got a handout to take home with us, and I'm sure it will be a helpful guide for us.
On Wednesday night we went on a river cruise on the Thames. I felt a bit bad for the poor Londoners on the DLR when it was suddenly invaded by a whole bunch of geeks on the way to the docks! I think pretty much all of us were surprised when we walked onto the boat and saw that it was a party boat, but it was fun. We ate, drank and listened to lots of bad 90s music while we enjoyed the view of London by night 🥳
Day 2: General Sessions and Quiz
Thursday was my first day as a proper room monitor, but I also had some free time slots where I got to just attend sessions and network. I went to Jonathan Kehayias' session on deadlocking, Rasmus Reinholdt's session on real-time solutions with SSIS and Biml, Oliver Engels and Tillmann Eitelberg's session on SSIS and HDInsight, and Steve Jones' session on branding yourself. The highlight of the day was when I met fellow Biml fan Steve Powell and we talked about Biml for an hour, yay! 🤓
On Thursday night there was a quiz with some really great prizes. I didn't actually participate in the quiz because I had signed up as a volunteer at the registration desk that night, so I just walked around and talked to people. I hung out with the awesome pirates from SQLSaturday Exeter for a while, had dinner (mmm, pie!) at another table, hung out with the pirates some more, helped out with registrations and went back to my hotel early to prepare for my session and get a good night's sleep.
Day 3: General Sessions and Superhero Party
Friday kicked off with the keynote in the superhero room where we got a first glimpse of what we could expect that night. Exciting! They keynote was interesting with stories about cows in estrus… It was actually more fun to watch the reactions of the guys on the front row and read their live tweets about it 😄 All the volunteers left early so we could get ready to hand out 1000 superhero capes to the attendees after the keynote. While we waited outside we heard a lot of noise from inside the keynote room. We all looked at each other and tried to figure out what was going on, but it all made sense when a whole crew of actors dressed up as Batman characters ran out of the room. Lucky attendees who got to watch the live show during the keynote! 🤩
After the keynote I went to Adam Jorgensen's session on the future of data professionals, Alex Whittles' session on Power BI, and James Skipwith's session on metadata driven automation. It was especially interesting to see another approach to metadata driven automation than Biml, but I have to admit that I was unfocused the entire day because I was nervous about my own session.
The last hour before my session was spent in the speaker room. My nerves were going crazy and I couldn't really concentrate, but I went through my session and demos one last time. I got an Iron Man Lego figure in the precon a few days earlier, and I think he needs to join me at other events - it's my new good luck charm! 😁 I had no clue how many would be interested in my session, but the room actually filled up. My nerves were still going crazy while I was getting ready, but then I calmed down as soon as I started speaking. I was so surprised! I was a lot more nervous in Germany and I expected the same reaction at SQLBits, but I managed to relax and enjoy the experience. I forgot to repeat some of the questions and I forgot some things here and there during my session, but overall I think it went ok. People seemed tired after a long day and ready to grab a beer, so I finished a bit early. I hope people learned a thing or two, but I'll just have to wait and see what kind of feedback I get. It will be terrifying and interesting to watch the recording of myself so I can see what I need to improve.
After my session I went back to my hotel room, got changed, and headed back for the superhero party. In case you're wondering, yes, it does feel very strange to be in a hotel elevator dressed as a superhero when other guests walk in 😁 The venue looked amazing, Coeo actually had a real ice bar! The Batman actors were back, and there were also lots of other actors dressed as superheroes walking around having fun with the attendees. There were so many awesome costumes at the party. Aaron Bertrand and Kevin Kline as the SQL Sentry Ghostbusters, Argenis Fernandez as Mr. Incredible, Wendy Pastrick as Poison Ivy, Oliver Engels and Tillmann Eitelberg as Mario and Luigi, Jonathan and Annette Allen as The Joker and Harley Quinn, and many, many others I don't have pictures of. The Joker in the cage is one of the actors, and I think we spent close to an hour trying to figure out if it was Daniel Radcliffe or not. It sure looked and sounded like him, and he was filming a movie at the ExCeL earlier that week, but… I'm not 100% sure. I like to think that it was him, though, because that would be awesome 😂
Day 4: General Sessions
I went to bed at 04:30 after the superhero party, and got up again at 06:00 to get ready for the last day of SQLBits. I was a room monitor in Jennifer McCown's session on stored procedures, Brent Ozar's session on DBAReaction's guide to SQL Server 2014, Tim Ford's session on working remotely, and Reeves Smith's session on Biml. I felt so bad after Brent's session because I managed to mess up the timings. It was an extended 75-minute session, but I timed it as a 60-minute session. I told him afterwards that he went over when he was actually nearly spot on time. Sorry, Brent! I blame the lack of sleep. Good thing he's a professional who ignored me and kept track of the time himself, so it was all good ;) Saturday was a great day and many lucky attendees went home with some amazing sponsor raffle prizes - and hopefully lots of great memories.
Day 5: Going Home
On Sunday I spent some time walking around London as a proper tourist. I had a huge smile on my face the whole time. It was an exhausting, but great week. I learned so much, met old friends, made new friends, had so much fun, enjoyed every moment and now I can't wait for the next SQLBits.
See you next year! 🥳
About the Author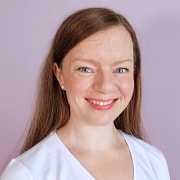 Cathrine Wilhelmsen is a Microsoft Data Platform MVP, BimlHero Certified Expert, international speaker, author, blogger, organizer, and chronic volunteer. She loves data and coding, as well as teaching and sharing knowledge - oh, and sci-fi, coffee, chocolate, and cats 🤓