Tips for Improving Your Presentation Skills (DataGrillen 2019 Session Recording)
At DataGrillen 2019, I presented a session called Uhms and Bunny Hands: Tips for Improving Your Presentation Skills. The wonderful Amanda Debler (@texmandie) was kind enough to record it, yay! 🥳
The session recording is now available on YouTube, and the slide deck is available on SlideShare.
Tips for Improving Your Presentation Skills - Session Recording
Watch the session recording on YouTube:
(As this was an unplanned session recording, we didn't have any microphones. The sound quality could be better, but I decided to share this video anyway. I hope it can still be useful for others!)
Tips for Improving Your Presentation Skills - Slide Deck
View the slide deck on SlideShare:
What will I improve next time?
At the end of my session, I tell everyone to pick one thing to improve each time they present. (Or more, if they want!) In my case, I have picked one lesson learned and one thing I want to improve.
Lesson Learned: Speak Louder!
Several feedback comments mention that I need to speak louder when I don't have a microphone. I knew that I was in a fairly large and wide room, but it didn't occur to me to ask anyone in the back or on the sides how the sound was once I started presenting. For me, it felt like I was already almost yelling! This is something I need to be more aware of in the future.
Takeaways: Always use a microphone, if possible. If no microphones are available, ask attendees for feedback on sound during the session.
Thing to Improve: More Demos!
Other feedback comments mention that my session could benefit from more demos. And by demos, I mean physically showing what not to do while presenting. Basically, more acting throughout my session 😅 This is something I've never tried before, so I'm still trying to find the right balance. I will keep working on this!
Takeaways: Don't be shy, just go for it 😎
What's next?
I'm leveling up! In September, I will be presenting a brand new presentation skills session - together with the awesome Alexander Arvidsson (@arcticdba). We're combining our very different presentation styles at DATA:Scotland to deliver something we hope will be fun 😁
About the Author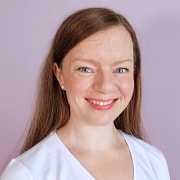 Cathrine Wilhelmsen is a Microsoft Data Platform MVP, BimlHero Certified Expert, international speaker, author, blogger, organizer, and chronic volunteer. She loves data and coding, as well as teaching and sharing knowledge - oh, and sci-fi, coffee, chocolate, and cats 🤓