TENK Tech Camp 2018 - Experiences Volunteering
TENK Tech Camp 2018 was a 2-day event for teenage girls who are interested in technology and science. On August 9-10th, 2018, over 200 girls gathered at Teknisk Museum (Norwegian Museum of Science and Technology) in Oslo, Norway to attend workshops about coding, hacking, artificial intelligence, chatbots, design thinking, app development, web development - and rocket engineering!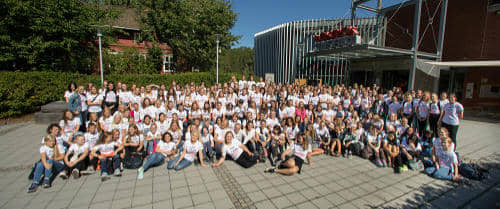 I was honored to participate as a mentor alongside more than 50 other talented women working in STEM. It was an absolutely fantastic experience, and I'm already looking forward to being part of this event again in 2019!
In the videos below, you can see some of my memories from TENK Tech Camp 2018, and the official recap of the event 😊
Cathrine's memories from TENK Tech Camp 2018:
Official video from TENK Tech Camp 2018:
How was the event organized?
Day 1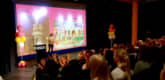 The event lasted for two days. On the first day, the girls got registered, received their t-shirts and swag bags, and attended the keynote by Isabelle Ringnes. (Isabelle is the co-founder of TENK, the main organizer of TENK Tech Camp, and overall one of the strongest, most kickass women I have met!)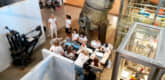 After the keynote, the girls divided into groups and headed off to their first workshop of the day. When the workshops ended, we gathered for lunch and watched two presentations: Kristin Brænden brought the robot AV1 and explained how it was built to help fight loneliness and isolation, while Synne Uddmo Ask talked about confidence, supporting each other, and being authentic and true to yourself. Synne kicked off her presentation by dancing on stage and literally showing the girls that "hey, just be who you are, have fun, don't worry about what others think about you - it's OK". I LOVED IT 👏🏻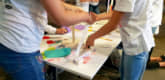 The second workshop of the day took place after lunch, and after that, we all gathered again for snacks and a feedback and Q&A session. The girls were encouraged to give feedback on what could be improved, then share something they had learned or something they enjoyed during the day.
Day 2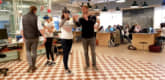 On the second day, we started with a quick briefing, then divided into groups again for the third workshop. I asked the organizers if I could please attend one of the other workshops this day. Why? BECAUSE MICROSOFT WAS THERE 🤩 Of course I had to sneak in and see what "my people" were doing. They taught the girls coding with Scratch, and demonstrated HoloLens. I am 99% sure that I enjoyed that workshop more than the girls!
During lunch, we watched two new sessions: Bani Singh shared her experiences being a tech student and traveling the world, while Eirik Normann Hansen brought his robot Pepper who danced and sang a birthday song. A tip for event organizers: robots are fun and popular - for people of all ages! 🤖 Then it was time for the final workshop, followed by the final feedback and Q&A session.
What did I do?
I was assigned as a mentor for the rocket engineering workshops. My first reaction was: "Wait, rocket engineering? But I know nothing about that!" It didn't matter at all. All of the mentors got to attend the workshop before the summer to prepare:
It turned out I didn't really have to do a whole lot. All the mentors felt a little superfluous, really, and that was a good thing! The girls are all incredibly smart and didn't need our help. What we did do was to just be there. We were supportive and encouraging, and spent time seeing and talking with as many girls as we could.
What did I learn?
I honestly feel like I learned just as much from the girls as they did from the workshops. When they arrived on the first day, many came alone and were shy and nervous. But by the end of the second day, the girls were on fire. We watched them grow immensely from the begging to the end of each workshop, as well as from their first workshop to the last.
They went from constantly asking "is this right? does this rocket look ok?" to running back and forth, trying new things, laughing, failing, laughing, trying again, and screaming with joy when their rockets flew 70-80 meters high. They went from not saying much at the end of the first day to loudly being proud of what they had accomplished on the second day.
It was absolutely wonderful to witness so much pure joy and pride at challenging themselves and succeeding! One comment from the second day stuck with me:
"My favorite part of the day was making new friends and realizing that I know and can achieve so much more than I thought I could."
It doesn't get much better than that 💙
Thank you to everyone involved for an amazing experience. I'm so proud and so honored that I got to be a part of it. See you next year!
You can find more pictures in the TENK Tech Camp 2018 photo album.
About the Author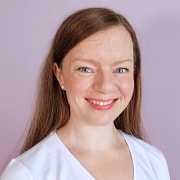 Cathrine Wilhelmsen is a Microsoft Data Platform MVP, BimlHero Certified Expert, international speaker, author, blogger, organizer, and chronic volunteer. She loves data and coding, as well as teaching and sharing knowledge - oh, and sci-fi, coffee, chocolate, and cats 🤓