SQL Server User Group Norway 2014 Summary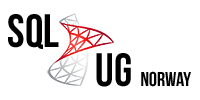 This has been a great year for SQL Server User Group Norway. It has been fun to see the user group come back to life and I'm very excited to share some news about our plans for 2015! But first, a summary of what happened in 2014.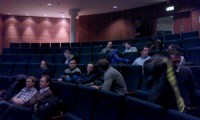 After getting our new website up and running we kicked off the year on January 23rd with a Hekaton presentation by Erik Flateby, and what we called an "interactive session" by me. I talked about PASS and everything it has to offer, showed our new website and how to join our local chapter, and did a survey to figure out who our members were and and what they expected from the user group. Most of the members worked in BI.
On March 5th we had Erin Stellato (@erinstellato) do a remote session for us about Extended Events, and Erik Flateby talked about Columnstore Indexes. Erin did a great job presenting without seeing her audience, and it was a good session even with a few technical problems on our side. Lesson learned: have two-way video for our next remote session.
Shortly after, on March 31st, Hans Olav Norheim (@norheim) presented Azure SQL Databases. He had traveled from the US to be part of the SQL Server 2014 launch event in Oslo and said yes to present for our user group. We were slightly disappointed that we didn't have as many attendees as we had hoped for. We thought it was because we didn't promote the event enough or because our meeting was so close to another SQL Server event where Hans Olav presented a similar topic. Lesson learned: Promoting too much is better than not promoting enough!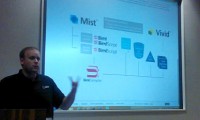 On May 12th it was time for my favorite event of the year, the Biml techie meetup with Varigence and Rehfeld. I thought it was an amazing session, but there weren't as many attendees as we had hoped for - again. (However, that was when I decided that I wanted to spread the word about Biml and start speaking, so for me personally it was sort of a good thing.) The previous meeting and this meeting were both scheduled on Mondays, and another lesson learned: Schedule meetings later in the week so you can send reminders a day or two before the meeting.
We had a long summer break and started the fall season with a massive success called SQLSaturday #317 Oslo on August 30th. Did you know that we had to say no to a user group meeting with Brian Knight (@brianknight) that following week because it was too close to our SQLSaturday, and we just didn't have the time and resources to promote and organize a meeting? That was such a strange experience for us, and we all wished we could have said yes. (Brian, if you would like to come back another time, I promise we will have time and resources to plan a proper meeting!)
In September we joined Meetup and moved our meetings to our new "home", Teknologihuset (House of Communities), two of the best decisions we made in 2014. We reached more people through Meetup, and it is a great tool for organizers with all its features. I do have to admit it is a bit confusing having members spread out over the PASS chapter website, Meetup and LinkedIn. It takes a bit of extra time to schedule meetings and get the correct information out to everyone without feeling like we're spamming our members, but we're learning. So far it seems like it's better to have too much information than not enough. My favorite part about moving to Teknologihuset is that it is such a cool and unique concept, a whole building dedicated to technical communities that we can use for free on evenings!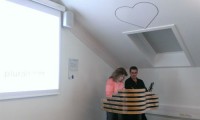 We were thrilled to have Stacia Misner (@StaciaMisner) kick off the fall season with a presentation about Multidimensional vs. Tabular for us on September 24th. She spent some days in Oslo doing other events and also brought Dean (@mr_stacia) with her, so I named it the Stacia Misner Week :) A new experience for the board members of our user group was that we didn't have to look for a meeting sponsor, we had some sponsor funds left from SQLSaturday Oslo to cover food and drinks. One of the goals of a SQLSaturday is to be fundraisers for the local user group(s), and I'm happy that we were careful with how we spent our money. It is a great feeling knowing that you can organize user group meeting without worrying about sponsors.
Just a few weeks later we had another familiar face visit our user group. Peter Myers presented Data Mining on October 13th. I couldn't make it to the meeting, but Peter got great feedback from the attendees. It was great to see many new people sign up for our meetings after the summer, and to see the average attendance rate go up.
On November 20th we welcomed our first new, local speaker! Marius Pedersen (@soylentshell) presented Maintenance Plans. One of our goals in SQL Server User Group Norway is to grow new speakers. We want to give new speakers a chance to practice presentations before submitting to larger events, and of course we want to build a community of sharing knowledge. I was so happy that Marius wanted to present, and I hope to see more new and local speakers in 2015. Try it one time, maybe you'll get addicted! 🤓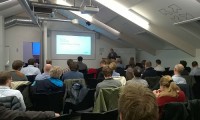 The last speaker of the year was Marco Russo (@marcorus) who took us on a tour inside Power Query on December 1st. We had three new attendee records! Most attendees registered, most attendees who showed up, and most first-time attendees. One lesson learned with Meetup is that it is very easy to RSVP yes for anyone, and this can make it difficult to plan meetings. Our meetings have had at least 25% fewer attendees show up than the number of registered attendees, so we always count the actual attendees during meetings.
What a year! I'm so proud of our user group. In May Tone S. Hansson (@ToneHansson) stepped up as the new Chapter Leader, and she has done a phenomenal job. Just wait until you see what happens in 2015! Say thank you the next time you see her, she deserves it 👏🏻 In November Rune Ovlien Rakeie (@runeo34) joined the board, and we were happy to welcome a proper DBA to the team. Let's make 2015 an even better year for SQL Server User Group Norway! 😁
About the Author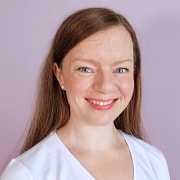 Cathrine Wilhelmsen is a Microsoft Data Platform MVP, BimlHero Certified Expert, international speaker, author, blogger, organizer, and chronic volunteer. She loves data and coding, as well as teaching and sharing knowledge - oh, and sci-fi, coffee, chocolate, and cats 🤓