Speaking (in Norwegian!) at MVP Dagen 2021
On Wednesday, November 17th, 2021, I will be speaking at MVP Dagen 2021! This is a free event where attendees can learn tips and tricks and get updates about Microsoft technologies from Norwegian MVPs.
There are several reasons why this is a very special event to me. It will be my first in-person event since February 2020, and I'm really looking forward to seeing and hanging out with fellow speakers and attendees again! It covers a wide variety of topics so I get to learn about cool things outside my regular data bubble. And… I will be delivering a session in Norwegian… about PowerPoint… Whaaat!? 🤯😁
I will be presenting a brand new session called Bli en PowerPoint (Slide Master)-mester på 1-2-3! (It roughly translates to something like Becoming a PowerPoint (Slide Master) Master in 3 Simple Steps!) It's a 40-minute mostly demo-based session on how to make PowerPoint work for you instead of against you.
Why am I presenting a session on PowerPoint, though? Excellent question! Johan Ludvig Brattås (@intoleranse) had already submitted a great session called Azure Synapse + Power BI + Purview = True that I want to attend, and I reeeaaally didn't want to compete with him for a speaking slot. Since attendees will have wildly different backgrounds and expertises, I decided to submit a session on a topic that most are familiar with. So! I chose something I feel like a know a thing or two about: creating slide decks with minimal effort.
Bli en PowerPoint (Slide Master)-mester på 1-2-3!
Vi har vel alle opplevd en eller annen form for "Death by PowerPoint": alt for mye tekst, alt for liten tekst, og punktliste etter punktliste etter punktliste… 😴 Men er det egentlig rart at det blir laget så mange kjipe presentasjoner når standardmalen i PowerPoint er den kjipeste av dem alle?
Kanskje har du også opplevd å få en firmamal som ser flott ut helt til du skal prøve å bruke den og ingenting fungerer som forventet? Eller at du endelig har fått ting til å se bra ut, helt til du kommer borti tilbakestill-knappen så alt flytter seg rundt og teksten mister all farge og blir bitteliten igjen? 😣
Det trenger ikke være sånn! Med en håndfull justeringer kan du få PowerPoint til å jobbe med deg istedenfor mot deg 💡
Bli med og se hvordan vi tar en ganske så trist og kjedelig presentasjon, skrur litt på innstillinger og endrer på noen standardverdier, og lager en ny mal som kan spare deg for massevis av tid og frustrasjon framover. Underveis ser vi på noen mer og mindre kjente funksjoner i PowerPoint som kan hjelpe både foredragsholdere og deltakere 🤓
Join us at MVP Dagen 2021!
MVP Dagen 2021 is a hybrid event that you can attend live in Oslo or tune into remotely. If you're in Oslo, you can also join us at the social hour afterwards. Register today, follow MVP Dagen 2021 on @Twitter and LinkedIn, and I hope to see you there!
About the Author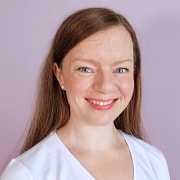 Cathrine Wilhelmsen is a Microsoft Data Platform MVP, BimlHero Certified Expert, international speaker, author, blogger, organizer, and chronic volunteer. She loves data and coding, as well as teaching and sharing knowledge - oh, and sci-fi, coffee, chocolate, and cats 🤓