Collecting Geeky Norwegian Humor (T-SQL Tuesday #99)
T-SQL Tuesday #99 is hosted by Aaron Bertrand (@AaronBertrand) and the topic is Dealer's Choice. What does that mean? Aaron wanted us to choose between two topics: write about something we are passionate about outside the SQL Server community, or write about T-SQL bad habits and best practices. I'm too afraid to argue with Aaron, so I chose the first option 😅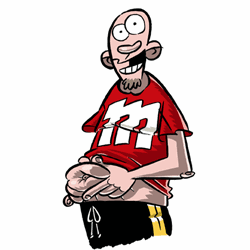 But what did I want to write about? Truth be told, I'm pretty boring. I don't have any real hobbies outside of tech, just a few interests. I first considered writing about hiking. I need to disconnect completely once in a while, and my favorite way of doing that is to get sweaty while walking for hours up a mountain or waterfall. My Instagram (@cathrinesqueee) is my highlight reel, full of pictures and happy memories from my trips.
However, instead of embedding all the pictures that are already on Instagram, I decided to write about something completely different. Something obscure. Something fun and geeky from way before I got involved in the SQL Server community. Something from my good old teenage fangirling days…
Collecting Geeky Norwegian Humor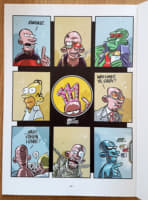 M! Yes, M. Not the language, but the Norwegian comic by Mads Eriksen.
M started as a guest strip in Pondus (another Norwegian comic). It was then featured as a guest strip in one of Norway's largest newspapers before it became a daily strip and replaced Hägar the Horrible. A few years later, M got its own monthly magazine, and was finally released as collectible books.
I loved M from day one. It was a semi-auto-biographical comic strip about a geeky couple, full of surreal humor and pop culture references. I mean, it focused on everything I loved and made me laugh until I cried. How could I not love it? 🤓🤩😁
And when I love something, I collect it.
Albums
I started my collection with the special edition albums that were released. I even got the first M album and the first Gnom album signed. (Gnom was Mads Eriksen's other comic.) Oh man, I was so starstruck that day!
Magazines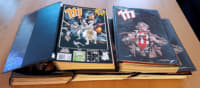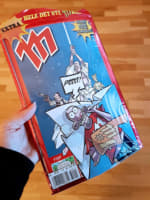 Then I started subscribing to the M magazine, and have the entire collection in original M folders. I even bought two versions of the first M magazine: the regular release and the release that was included with Pondus. (Still wrapped in plastic.)
Books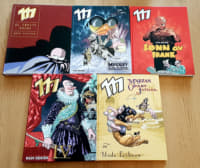 In addition to the monthly magazine, I have all five books, of course 🥰
Autographs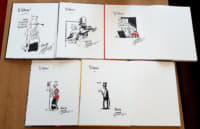 But I don't just have the books. I have signed books. Personalized, like the albums. Because I'm a fangirl. I got the first book signed in 2007, but didn't make it to another signing until 2013. By then, he had released the other four books. So I, uh, brought them all with me. (If you were behind me in the line that day, I'm sorry!) He asked me what to draw in each of the books. I said I wanted Star Wars in the Star Wars book, and then mentioned other things I like. Computers, coffee, and… cats. I got what I asked for. Miaow 😻
Original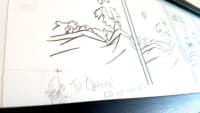 The final piece of my M collection is the original drawing for the Manah Manah comic strip. It's framed and hanging in my living room 💙
About the Author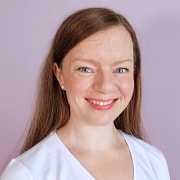 Cathrine Wilhelmsen is a Microsoft Data Platform MVP, BimlHero Certified Expert, international speaker, author, blogger, organizer, and chronic volunteer. She loves data and coding, as well as teaching and sharing knowledge - oh, and sci-fi, coffee, chocolate, and cats 🤓